Get involved as a senior counsellor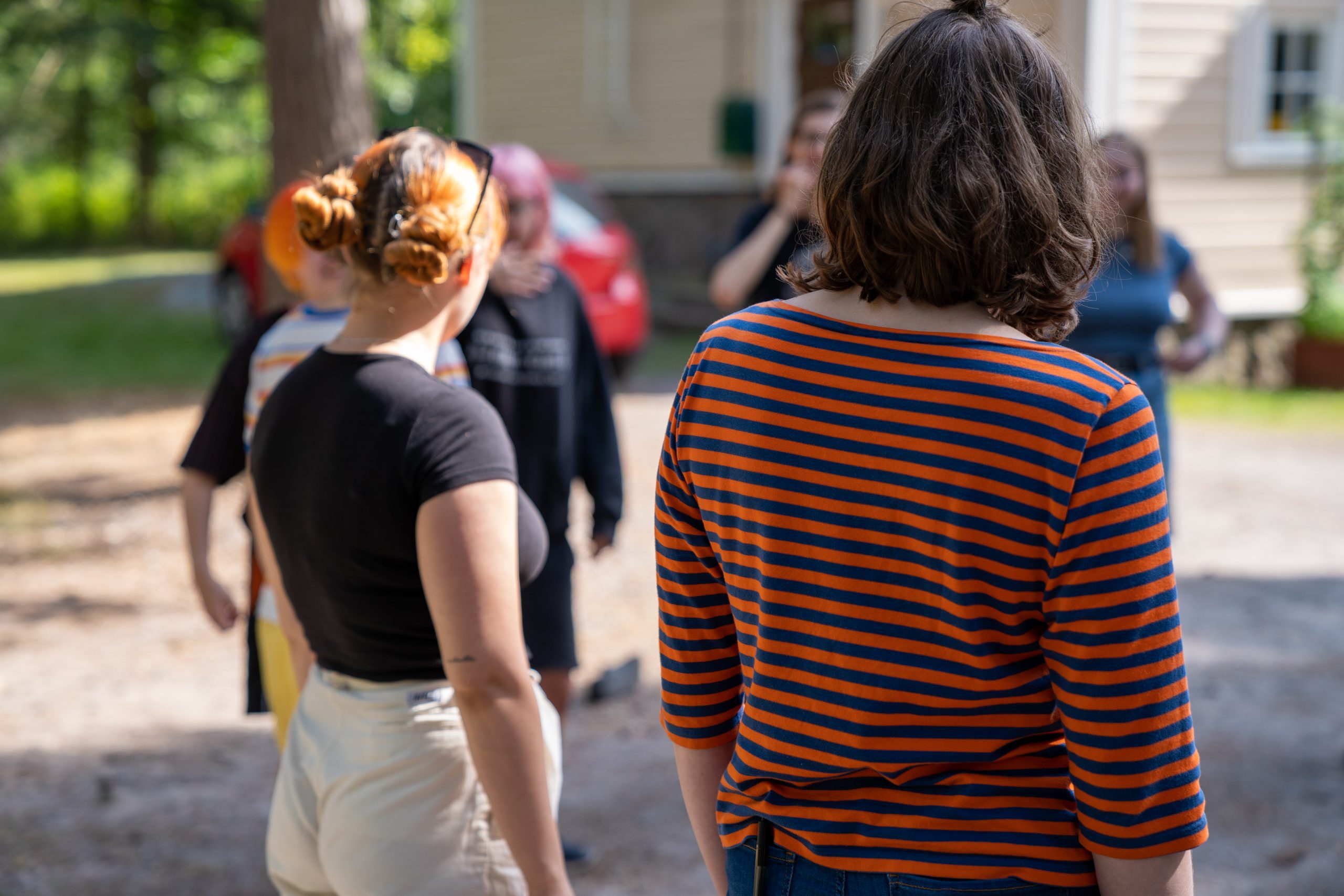 Adults over 20 years of age!
Think the world is in need of more independent, critical thinkers? Come volunteer as a senior camp counsellor over the summer & help provide teenagers with a safe environment to ponder questions both big and small, reflect on their own identities, and think curiously and critically about the lives they'd like to lead.
Nearly 150 senior counsellors are needed to run Prometheus camps each summer. A senior counsellor does not need to have any prior Protu experience or to be a member of the organisation; anybody over 20, regardless of background, is welcome to apply. As long as you approach life with a healthy sense of curiosity and are interested in spending a summer week volunteering with 14-to-16-year-olds, facilitating discussions and games, camp counselling is for you! A senior camp counsellor listens to campers, gives their own insight when needed, and helps drive the discussion forward with new ideas and thoughts. Good senior counsellors are willing to put themselves out there, exemplifying how a grown-up might think and feel and providing campers with one possible model of adulthood.
As a senior camp counsellor you will:
plan out a week-long camp program with a team of camp counsellors, using Protu's official themes and goals as a basis

participate in facilitating a variety of programs, doing your best to support teenagers' thoughts, ideas and emotional well-being as they take their first steps into adulthood

have an opportunity to learn new things and grow as a person yourself, as well as develop your communication, teamwork and organisational skills
What is a camp team?
Each camp is run by a team of volunteers consisting of two over 20-year-old senior camp counsellors, as well as five junior counsellors.
Team members participate in two weekend-long trainings between November and February, and a team training in April or May. During trainings you'll learn about the content, goals and practical aspects of Prometheus camps, and have the opportunity to practise facilitating programs.

It is advisable to make plenty of time for camp planning outside of the trainings.

Camp counselling is voluntary work, but travel expenses are reimbursed, and you're guaranteed to be served filling, delicious food. Additional benefits to camp counselling include sunsets, warm hugs, getting to know and spend time with amazing people, as well as broadening your horizons through interesting, thought-provoking discussions!
Instructions and yearly schedule for senior camp counsellors
The journey to counselling at a Protu camp in 2023 starts in late August 2022. If you're thinking of volunteering as a senior camp counsellor, here's what you need to remember: 
Recommended: Become a Protu member!

If you've already attended a camp or been part of a camp team, check your personal information on the Protu website. If you're applying for the first time, create a login by registering to the website.

Late August onwards:

Apply for a senior counsellor role through your profile. You'll find the right role type by taking a look at the instructions for signing up for trainings. When your role application is accepted, you'll receive a notification to the email address linked to your account.

In September

you'll get an email reminding you to sign up for trainings and additional information about camp counselling.

October onwards

: Sign up for trainings. If you're applying to be a senior camp counsellor for the first time, read through this page before signing up. 

November to February

: 1) participate in the trainings required of your role type 2) remember to fill out the availability form on time!

In February, once you've attended the necessary trainings:

apply to camp counsel! You'll receive additional instructions during trainings. You'll be notified via email about having been placed in a team in mid-March.

May:

1) attend team training 2) plan out the camp with your camp team.

June to August:

1) facilitate a week-long camp together with your camp team 2) attend the official wrap-up at the end of summer.